Colchester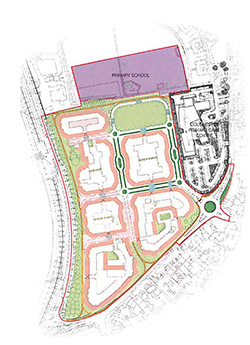 As planning agent to the Secretary of State for Health, we secured and implemented a strategy for a phased release of NHS land in Colchester for in excess of 3,000 houses and associated mixed uses. The strategy included promotion of the land for an overall development through the Colchester Local Plan review and subsequent outline planning applications for each of the major sites.
Severalls Hospital, Turner Rise, Land west of District Hospital and Mylands Hospital
Four major planning permissions have been achieved between Turner Rise, land west of District Hospital and the Mylands Hospital sites. The schemes have included a major link road, Asda store and other large retail units, major open space and public transport provision, train station upgrades and phased residential development of over 1200 dwellings.
Turner Village
Turner Village represents the final phase of surplus NHS land in North Colchester. We prepared a master plan for up to 430 houses and a new primary school and were subsequently involved in negotiating a s106 agreement between the interested parties.