Environmental Impact Assessment
Environmental Impact Assessment (EIA) is an integral part of planning and development. It is a process by which the anticipated effects on the environment of a proposed development are measured to inform the decision making process. The EIA process can often be seen as complex and confusing, particularly for landowners and developers. However, if managed well it is a key planning tool that provides the opportunity to de-risk development and enhance proposals.
AM-P has an excellent track record as EIA co-ordinators. The main element to this role is AM-P leading, managing and contributing to the preparation and compilation of Environmental Statements (ES) to support major planning applications. AM-P will manage the EIA process through the various stages of screening, scoping, consulting, preparing the ES, decision making and monitoring. AM-P also draft key sections of the ES including assessing the socio-economic effects of proposed development.
In recent years AM-P has successfully coordinated the EIA process on a number of major planning applications. These include at Bishop's Stortford South, which was a residential-led mixed-use development comprising approximately 750 new homes and at Warren Farm, Chelmsford, which again was a residential-led mixed-use development comprising approximately 800 new homes.
AM-P will continue to monitor and keep up to date on any changes to the EIA Regulations and policy post Brexit.
The practice is registered with the Institute of Environmental Management & Assessment (IEMA) and holds the 'EIA Quality Mark'.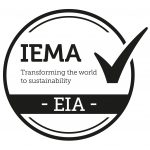 Link to: All Projects